Registration available for Thursday - Sunday here now.
Registration for Dr. Joe Dispenza, optional full day Friday February 23rd.
Optional film, Saturday evening, February 24th. Register Here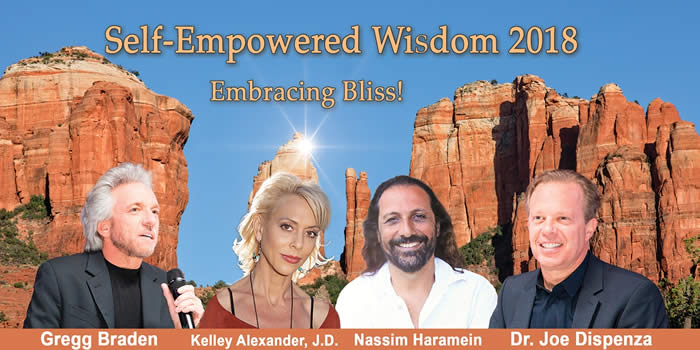 Self-Empowered Wisdom
Thursday - Sunday, February 22-25, 2018
Our sleeping room block at the Hilton Bell rock is sold out.
We have an additional sleeping room block available at
6 miles from the Hilton on scenic route 179.
Ask for the Stellar 2018 rate!
or click the link below to book directly!
https://reservations.travelclick.com/73864?groupID=2067589#/guestsandrooms
Poco Diablo Resort & Spa
1752 State Route 179, Sedona, Az 86336
Tel 928-282-
Embracing Bliss!
The Spirit of Enlightened Conversation.
The retreat of the year! Held in the magic and mystery of
red rock country! Sedona, AZ.
Thursday evening February 22nd from 7-9 pm
Opening ceremony -- Music and Meditation with
Shey Khandro

https://www.sherabkhandro.com/
and Irene Ingalls
http://www.seattlesoundtemple.com
Friday February 23rd
Optional Full day with Dr. Joe Dispenza 9-3 pm
Friday evening
Kelley Alexander J.D. and Gregg Braden 7-10 pm
Saturday
A full day with Dr. Joe Dispenza and Gregg Braden, concluding with our unplugged conversations, you and the presenters exploring possibilities and co-creating new potentials. Co-create intentions, in the SPIRIT OF ENLIGHTENED CONVERSATIONS!
Lunch is included!
Saturday evening optional film
Sunday full day with Gregg Braden and Nassim Haramein! The universe and how we are connected.
Lunch is included!
Sunday evening concert and closing.
Gregg Braden and Dr. Joe Dispenza, will be presenting cutting edge information from their new books, along with heart-opening meditations and interactive presentations. Our "Unplugged Panel Discussion" is highlighted again this year.
Immerse yourself in the essence of joy and gratitude as you begin the new year with kindred spirits from throughout the world, come together as one heart, as we embrace the oneness that we are!
Enhanced by some of Sedona's finest presenters leaders such as Kelley Alexander, J.D. from The Sanctuary at Sedona, native American ceremonial leaders and friends from the land of the Mayas, we will celebrate YOU.
Our closing ceremony and concert captures the essence of the heart with Martha Reich. Martha has received a Silver Medal for Outstanding Achievement for Protest Music and Emerging Artist in the 2016 Global Music Awards, 2015 Southwest Independent Music Awards Winner and 2014 New Mexico Music Awards Winner for Best Folk Song. She has performed at some of the most respected venues in New Mexico, throughout the country and internationally.

"Martha's music transcends tradition and language in a way that is moving, honest, and rare. Each song feels as though she's written it just for you--to tell you something important about life." -- Gregg Braden
Join us for a life-changing experience at the newly renovated Hilton Sedona Resort at Bell Rock with a backdrop of the world-famous red rocks. Relax in the renowned Eforea Spa and bathe in the mystical vortex energy.
Call 928.451.4670 cell or office land line 928.284.0791
or email info@stellarproductionslive.com
Early bird tickets available for Thursday - Sunday here now.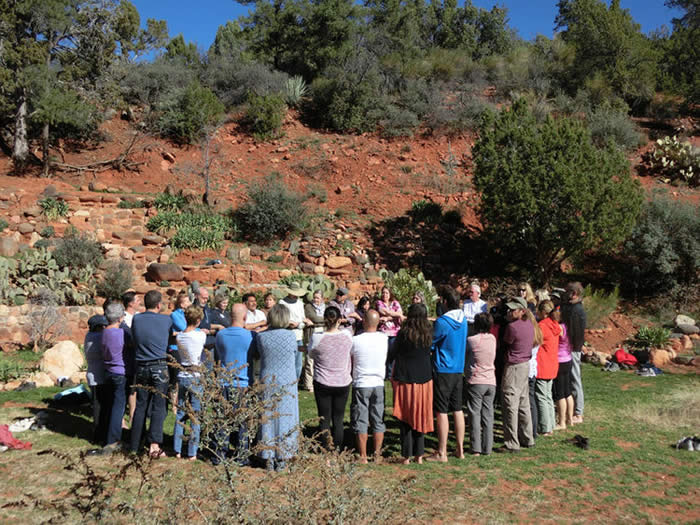 Terms and Conditions:

There are no refunds once you have purchased your space for our retreat.
Each year we create a collaborative, interactive experience and we welcome you! We have commitments to the presenters which are non-refundable, thus we are not able to refund your registration once purchased. Thank you for your understanding.
Commitment Policy:

Your weekend fee is not refundable as stated above, but it is transferable. Should you wish to transfer your ticket to someone else email our office please: info@stellarproductionslive.com no later than January 23, 2018, to let us know who will be taking your place.
Once you purchase your ticket it is non-refundable.
Thank you! We look forward to seeing you in Sedona.
Sponsored by:

**********************************************************