SEDONA
With a rich history spanning 6,000 years, Sedona is considered the
'Spiritual Mecca of the Southwest.'
The unique energy is believed to come from
Red rocks: stimulating creative thinking and problem-solving
Evergreens: evoking a sense of hope and renewal
Spectacular trails: providing numerous opportunities
for reflection and contemplation
Did we also mention the red rocks are famously
believed to be a portal to other dimensions?
Getting to Sedona!
From outside Arizona, fly to Phoenix Sky Harbor Airport.
Then rent a car or take a shuttle from Phoenix to Sedona.
Driving time is about two hours by car or shuttle.
Your easy, safe and reliable transportation.
Reserve your room now at the Stellar rate.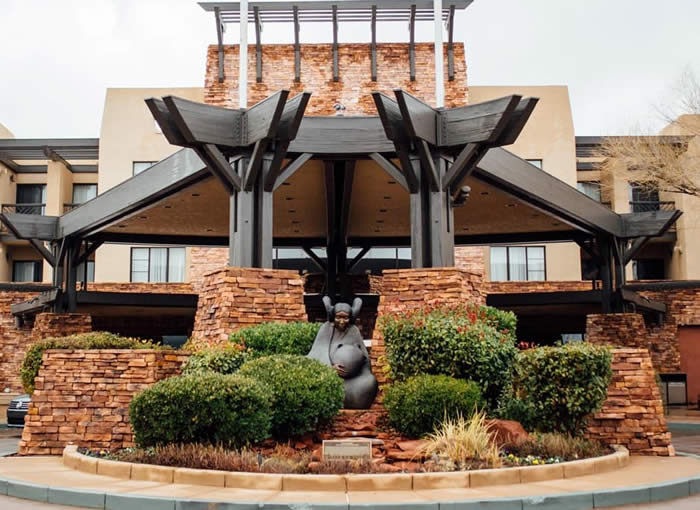 .
OR
1752 State Route 179, sedona, AZ 86336
(

6 miles

) to the Hilton Sedona Resort and Spa
Driving time 10 minutes in moderate traffic.
Book The Poco Diabolo at the Stellar group rate
or call the hotel directly to book 928-203-5923
or book via email at reservations@pocodiablo.com

Our post retreat seminars on Monday will be held
at the Sedona Creative Life Center.
Directions to the Sedona Creative Life Center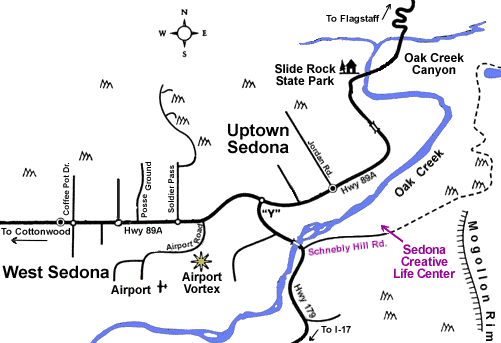 Directions from Phoenix Airport to the center. Drive onto Interstate 10 west at the Phoenix Airport exit, and then onto Interstate 17 north toward Flagstaff. Follow Interstate 17 north from Phoenix about 100 miles. Exit at state highway 179 (exit 298). Go about 15 miles north on highway 179 and turn right on Schnebly Hill Rd (if you get to the "Y" where Hwy 179 ends at Hwy 89A, you have gone a quarter mile too far). Go about a quarter mile up Schnebly Hill Rd to number 333 and turn left into SCLC.
Directions from Flagstaff. If it is snowing, take Interstate 17 south from Flagstaff about 41 miles to state highway 179. From there, follow the directions above as if coming from Phoenix. This route takes about an hour from Flagstaff to Sedona.
If the weather is good, take Interstate 17 south from Flagstaff. Exit at US highway 89A (exit 337, which is 2 miles south of the junction of Interstate 40 and 17). This takes you on a breathtaking 25 mile, 40 minute drive through Oak Creek Canyon. When you arrive in Sedona, continue on Hwy 89A to the first roundabout. Go 3/4 around the roundabout, and exit on Hwy 179 going south. Immediately after crossing Oak Creek bridge (1/4 mile), turn left onto Schnebly Hill Rd. Go another 1/4 mile up Schnebly Hill Rd to number 333 and turn left into SCLC.
_________________________