The Circle of Light
Gathering
with Leah Denmark
Sedona Creative Life Center
9 AM - 4:30 PM ~ Includes Lunch
$225.00
Enter The Circle of Light to awaken to new possibility in your life! Leah Denmark is a Destiny Awakener and Personal Transformation Guide who will work with you to shed new light on the energetics of color and how you can utilize it to enhance your daily life, strengthen your alignment with your purpose and activate your spiritual guidance team. In this full interactive day with Leah you'll:
Understand how your personal energy field is running your life, which chakras may be running low, and what you can do about it

Benefit from the powerful healing properties of crystals, color and sound

Work with the energy of your chakras and auric field to raise your vibrations and create a life that you love

Illuminate the soul blueprint that's in Your Hands to remember who you are and why you are here

Discover how to benefit from the wisdom that your past lives have to offer

Heal your relationship karma to attract greater peace, joy and love
Leah Denmark is a multifaceted facilitator based in Sedona whose work has assisted countless lives on their spiritual journey. As a master energy healer, spiritual guide and catalyst for conscious awakening, Leah has been dedicated to the human potential movement for over 30 years. A profound spiritual awakening and near death experience at age 20 guided her to travel the world as a life-long student of esoteric wisdom and sacred studies and to obtain advanced education and training in the field of transpersonal psychology. Her channeling, intuitive hand readings and soul journey healing work is known for enriching and transforming lives.
Call or Text Leah at (206) 352-2220
Or Email Leah@VibrationsOfLight.com
***************************************************************************
Monday, February 26, 2018
Post Retreat Seminar:
The Art of Sound Healing Level 1
with Irene Ingalls
Sedona Creative Life Center
9 AM - 4:30 PM ~ Includes Lunch
$225.00
The Art of Sound Healing Level 1 with Irene Ingalls is an immersive workshop focusing on the fundamentals of sound as a healing modality. Great attention is given to the power of the human voice as a healing instrument and to the beauty and simplicity of this method. Vocal exercises focus on the breath, the chakras and their corresponding sounds and simple toning as a medium for moving energy.
The power of intention is addressed through sound exercises, demonstrating how infusing love, gratitude and wisdom into a session is yet another tool for healing. Participants will learn how vibration and resonance balance and alter the brain's waves, creating relaxation and transformation in clients.
Irene will teach about using crystal singing bowls and other sound healing tools in working with others. Hands-on practice utilizing singing bowls around and directly on the body to shift energy blockages is an important aspect of the workshop and gives participants the opportunity to gain confidence in the work.
Irene Iris Ingalls is an Alchemical sound healing practitioner, Light Language artist and founder and owner of Seattle Sound Temple – Seattle's Center for Sound Healing and Experimentation. Irene has long been entranced with the wonders of sound, from her early work in experimental music to her 13 years as a sound healing practitioner; Irene loves to share her deep passion for healing through the senses with others.
Irene's work in sound healing is a unique fusion of the beautiful harmonies she coaxes out of her 22 alchemy singing bowls, her delicate singing and Light Language – utterances from the spirit world manifesting though her – creating a profoundly light-filled healing experience.
Irene brings with her a particularly sweet sense of love and joy and combines this with the many years of training in sound healing with Master sound healers, Tom Kenyon and Jonathan Goldman. Her training also includes her studies in Alchemical Healing with Sharlyn Hidalgo and Danielle Rama Hoffman and the wisdom teachings of the ancient Egyptian Mystery Schools.
For more information about Irene and Seattle Sound Temple, please visit www.seattlesoundtemple.com
**************************************************************************************************************
Monday February 26th, 2018
Post retreat seminar: Pachacuti: Return to Joy!
Includes Lunch and evening Ayni Dispatcho from 6:30 pm- 8:00 pm.
$225.00
Jorge Luis Delgado
9:00 am - 3:00 pm includes lunch.
Includes evening ayni dispatcho from 6:30- 8:00 pm.
Held at the Sedona Creative Life Center.
Details soon and registration soon!
Pachacuti : Return to Joy!

Jorge Delgado was born in a small Andean village in Peru. In his book, Andean Awakening, Delgado opens the door to his mystical homeland as he describes his own journey of awakening and packs his personal narrative with fascinating details about Peru, its history, culture, mythos and magic. Delgado is our personal chacaruna - a bridge person who helps others to cross from one state of consciousness to another. Delgado bridges us to the spiritual power of the Andes, of Peru and legend of the Inca - the return of the children of the light.

In the Inca tradition, there is no separation between the physical and spiritual worlds. Jorge Luis Delgado is expert at walking this path between both worlds. He received his early training from the Kallawaya shamans of the NE Lake Titicaca region, the lineage of the Wise Ones of the Andes, and from the Qero elders of Cusco, who are the last remaining tribal descendants of the Incas.
Author of Andean Awakening: an Inca Guide to Mystical Peru and the forthcoming book, Pachacuti: Return to Joy, Jorge Luis is recognized worldwide as an authority on Inca philosophy, spirituality and tradition.
Jorge Luis has brought to public attention the Aramu Muru Doorway, an inter-dimensional portal located in the Hayu Marca mountains in south Peru. He is also a founding member of The Brotherhood of the Solar Disc, an Andean esoteric society.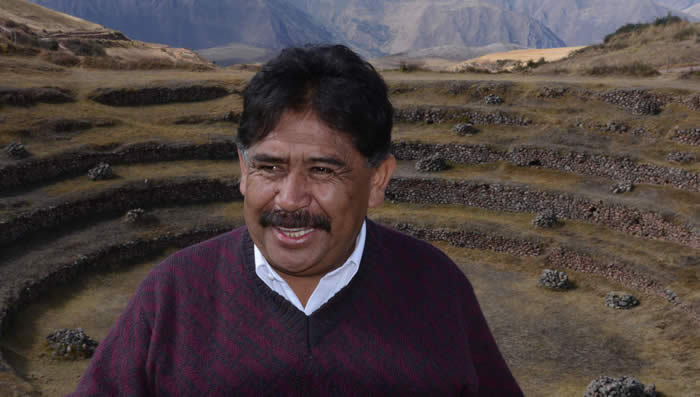 Jorge Luis is clearly an embodied wayshower for this new Earth that we are creating. He teaches that a new consciousness is emerging, one leading to a Golden Age. He is a keeper of the ancient knowledge and uses it to assist in healing for all who are ready.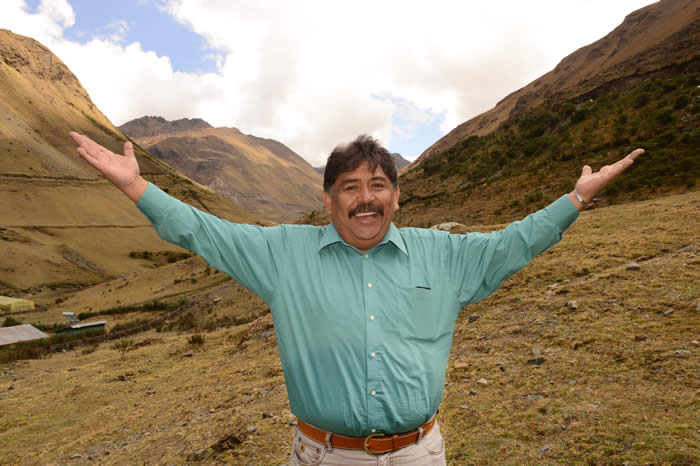 Jorge Luis Delgado is the founder and owner of Kontiki Tour Company and owner of hotels in Cusco, the Sacred Valley and on the shores of Lake Titicaca. Most importantly, Jorge Luis is known and respected by the Andean priests and indigenous people of the region. In addition to his native Spanish, Jorge Luis speaks fluent English and three indigenous languages.
Jorge Luis is a frequent guest on the History Chanel's Ancient Ancestors TV series, has hosted and remains in contact with such notable people as Don Miguel Ruiz, Bo Bingham (grandson of Hiram Bingham), and David Childress, author of the Lost Cities Series.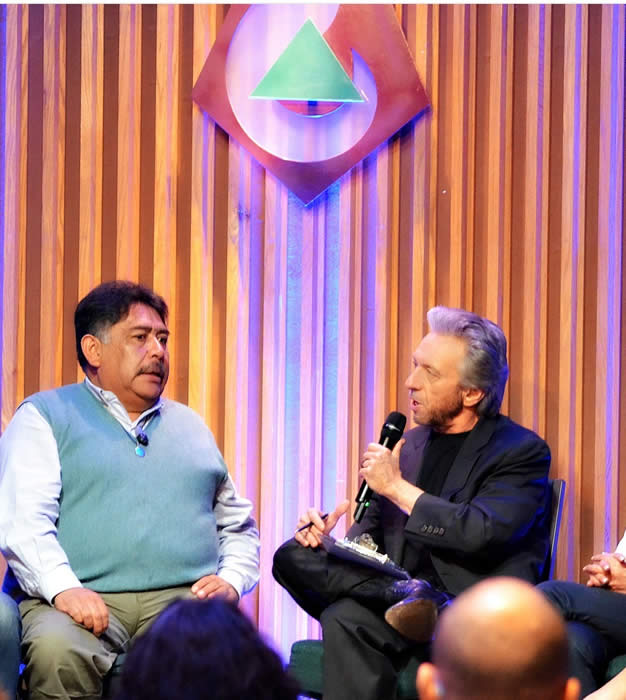 Jorge Luis Delgado and Gregg Braden
March 2017.