2019 Post-Conference Seminars
Monday June 10, 2019
Join us for seminars with our life-changing presenters. Please note: all seminars may be purchased whether or not you are attending the Self-Empowered Wisdom conference.
Heart-based Living – Tools to Express Qualities of the Heart in Daily Life
with HeartMath CEO, Dr. Deborah Rozman
Lunch is included.
Monday, June 10th 10 am to 4 pm at Sedona Creative Life Center
Register here for Heart-based Living with Dr. Deborah Rozman.
Heart-based living engages the intelligence and core power of the heart to access "practical intuition" in how we act and shape our lives, individually and collectively.
We're living in a time of extremes—the uncharted territory of a world that's changing in ways that we're not used to and often faster than we can keep up. How do we move effectively through such a magnitude of change? The answer is found in paradigm-altering discoveries from the new science of neuro-cardiology (the bridge between the brain and the heart) and how we can access the heart's intuitive intelligence to shape not only our life today but our future.
In this in-depth full day program, you will:
• Gain a deeper understanding of the global and social changes we're all experiencing which are actually pulling humanity toward heart-based living
• Understand new breakthrough research on how the heart/brain/body communicate and activate people's higher capacities
• Learn how the core power and intelligence of the heart creates higher outcomes – personally and professionally
• Experience science-based HeartMath techniques validated in multiple social sectors to reduce feelings of overwhelm and insecurity at any moment, lift your mood and access practical intuition for forward movement
• Learn about new interconnectivity research and what it means for you and our planetary future. The Global Coherence Initiative and the science behind it.
• Take home heart-based living tools for personal, social and global coherence that will enable you to express heart qualities in your daily life, lift your vibration to keep up with the planetary shift and find new clarity in weighing choices and decisions.
• Learn why heart intelligence is the next leap in human evolution and how you can effectively "Add Heart" to a world in need
Register here for Heart-based Living with Dr. Deborah Rozman.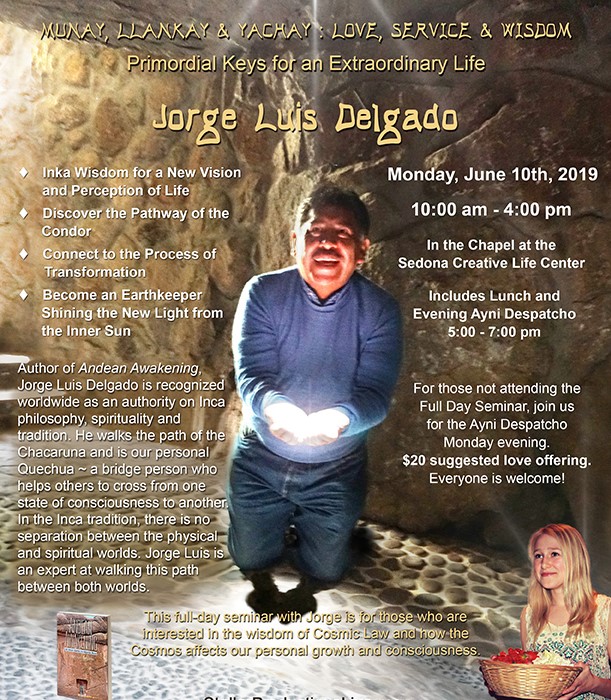 Munay, Llankay and Yachay: Love, Service and Wisdom – Primordial Keys for an Extraordinary Life
With Jorge Luis Delgado, Inka Wisdom Keeper and author
Lunch is included. Evening anyi despacho included.
Monday, June 10th 10 am to 4 pm at Sedona Creative Life Center in the Sedona room
Register here for Love, Service and Wisdom with Jorge Luis Delgado.
In the Inca tradition, there is no separation between the physical and spiritual worlds. Jorge Luis Delgado is expert at walking the path between both worlds. He received his early training from the Kallawaya shamans of the NE Lake Titicaca region, the lineage of the Wise Ones of the Andes, and from the Qero elders of Cusco, who are the last remaining tribal descendants of the Incas.
In this heart-centered seminar you'll discover:
The wisdom of Cosmic Law

How the Cosmos affects our personal growth and consciousness

Inka wisdom for a new vision and perception of life

The pathway of the Condor, the process of transformation

How to shine the new light from your inner sun.
Register here for Love, Service and Wisdom with Jorge Luis Delgado.
Ayni Despacho Monday, June 10th 5:00 pm to 7:00 pm at Sedona Creative Life with Jorge Luis Delgado. $20 love donation. All are welcome! The anyi despacho is included with Jorge's full day post-conference seminar. Open to the public as well. Love offering appreciated.
In shamanic tradition, an ayni despacho is done with the intention to bring oneself and one's community into right relationship with the natural world. It creates a sense of union, harmony and reciprocity with nature.
For the ayni despacho, the shaman begins with a large piece of white paper that will serve as a 'wrapping' for all of the offerings. All ingredients have significance and each receives prayer before being placed on the paper. Bay leaves are used to hold prayers. Sugar and various sweets bring sweetness and love to the prayers. Corn and other grains are used to nourish participants and Pachamama (the Earth). Once all ingredients have been added, the shaman carefully folds the bundle into the shape of a square 'gift' and ties it.
After a despacho is prepared, the shaman uses it to cleanse the energy body of each participant. To close the ceremony, the despacho is placed in a ceremonial fire, buried in the earth or released into the water.
****
Essential Oils and Your Emotions featuring DoTERRA oils
with Nicole Almeida and Corinne L. Casazza
Monday, June 10th 9 am to 10 am at Sedona Creative Life Center
One hour class -- come experience the oils!
One lucky participant will win a Diffuser and doTERRA oils basket!
Register here for Essential Oils and Your Emotions
Learn how you can elevate your emotions and moods with essential oils. We'll be working with specific DoTerra oils which were specially formulated to manage your emotions. The aroma of oils has a direct connection with our brain and can almost instantly raise our state of being. Imagine being connected to the wisdom of your heart in every moment.
In this one hour seminar, you'll discover:
The science behind how essential oils manage your mood and emotions
How to use oils to manage your mood and emotions
How you can choose an oil to create a specific emotion
Tips on how to get the most from your oils
Register here for Essential Oils and Your Emotions