Embracing Balance
Celebrate World Peace Day and Fall Equinox
in magical Sedona, AZ.
September 21-22, 2018
built in a vortex of sacred space on 17 acres in the heart of Sedona.
See commitment below.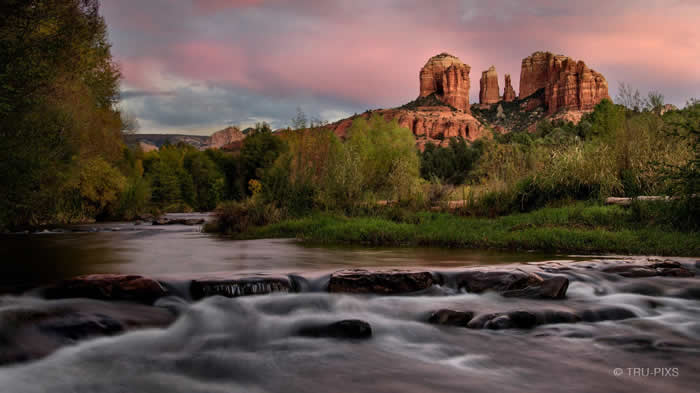 Photo Credit - Erik and Terry Trujillo, Tru-Pixs.com
Schedule
Friday, September 21
Doors open at 5:45 pm
Peter Sterling 6:15 pm - 6: 30 pm
Angelic Harp Music
Celebrated Harpist Peter Sterling's life is a reminder to all who offer themselves as an open vessel for the Divine, that there's no stop button once Spirit unleashes its creativity. Peter's response to his heavenly calling 25 years ago blossomed into an endlessly-creative multi-media career, spanning 16 studio albums, numerous Music Awards, a book called Hearing the Angels Sing, and an impressive series of crystal-frosted Mandala art prints – enough to fill a gallery. Peter also creates sacred geometry Stained Glass art and presents dynamic workshops on the science of sound healing & sacred geometry.
Andrea Smith 6:30 pm - 7: 15 pm
International world peace artist, philosopher and peace activator Andrea Smith will share her message of peace and hope. Her message not only shows up in her beautiful paintings and sculptures but also in her actions. Actions such as lending her support for the past 15 years to the University for Peace organization founded by the United Nations. Along with the former President of Costa Rica, Rodrigo Carazo, Andrea developed the first Art For Peace Calendar that was published continuously for over 20 years.
Andrea's hope is that you join her mission to spread the message that peace on earth begins with finding peace within.
Break 7:15 pm - 7:30 pm
Sherab Khandro 7:30 pm - 9 AM
Our opening ceremony captures the essence of peace with artist and philosopher, Sherab "Shey" Khandro. Shey's deepest wish is to nourish and inspire the hearts and minds of others through paintings, sculpture and philosophical reflections focused on art, spirituality and the experiences of modern life. Committed to living with an open heart, she invites you to come alive in your own journey through the power of mindfulness and intentionality, exploring the transformative power of universal Love and Compassion.
Saturday, September 22
Doors open at 8:30 pm
Cynthia Richmond 9:00 am - 10:30 am
Cynthia Richmond is a board-certified behavioral therapist, author, speaker, and educator. Through her dream work on television, radio and in print she has helped thousands of people increase their creativity, and live more fulfilling, joyful lives. Entertainment Tonight called Cynthia "one of the foremost authorities on dreams and their meanings of our time."
"Dreams can be elusive and mysterious," says Richmond," but understanding them can assist us in so many practical and important ways. Our nightly dreams are a barometer of our mental, physical, and spiritual wellbeing. In fact, our night dreams can help make our life dreams come true!"
Break 10:30 am - 10:45 am
Betsy-Morgan Coffman 10:45 am - 12:15 pm
Betsy-Morgan has been teaching channeling classes all over the world for over 30 years. Along the way, this beloved Master Channel has graduated hundreds of professional Channels, thus earning her the loving title ​"Teacher of Teachers." Betsy's happiest moments have been helping other's learn to channel. "There is a magical moment when one first connects with their angel or loving spirit guide and allows the words from the Higher Realms to come through their lips!"
Break 12:15 pm - 1:30 pm
Eddie Conner 1: 30 pm - 3:00 pm
Eddie Conner is an Author, Humorist, Soul Intuitive, and Radio Host of, The Eddie Conner Show with Rachel Angeline on LA Talk Radio. He has appeared on America's Best TV Show, The Morning Show Australia, CNN.com, Associated Press, WeBlogTheWorld.com, The Ghosts and Afterlife Documentary, Coast-to-Coast with George Noory, and has been featured in CBSLocal.com, for their, Best Psychics and Mediums in Los Angeles issue. Eddie travels the country teaching his unique brand of spirituality and Meta-FUN-ics, "Making Metaphysics Fun."
Lynn Bunch 3:00 pm - 4:30 pm
Realizing that her life path was to educate people on how to use their intuition -- an ability she possessed since childhood to make significant life changes, Lynn founded Intuitive Development in 1996. Since then, she has empowered thousands of individuals in their career, finance, and relationship goals. Lynn says, "Learning to follow your intuition will transform how you work, live and love with passion, purpose, truth and inner wisdom leading the way."
Break 4:30 pm - 4:45 pm
Rahelio 4:45 pm -6:15 pm
Closing our event will be Rahelio. Rahelio is a spiritual guide, shaman, healer and astrologer leading Mystic Tours in Sedona, Arizona since 1987. Combining wisdom from eastern and western traditions and Native American shamanism, Rahelio shares teachings bridging ancient wisdom and modern awareness. Rahelio has his unique way of teaching and healing while taking people out in the beauty of the sacred landscape of Sedona. Rahelio shares his in-depth teachings, meditations and ceremony with the intent of bringing harmony and well-being to Mother Earth and all sentient beings.
Dinner 6:15 pm - 7:45 pm
Concert with Martha Reich Braden 7:45 pm - 9:15 pm
Doors open at 7:30 pm
Martha has received a Silver Medal for Outstanding Achievement for Protest Music and Emerging Artist in the 2016 Global Music Awards, 2015 Southwest Independent Music Awards Winner and 2014 New Mexico Music Awards Winner for Best Folk Song. She has performed at some of the most respected venues in New Mexico, throughout the country and internationally.
"Martha's music transcends tradition and language in a way that is moving, honest, and rare. Each song feels as though she's written it just for you -- to tell you something important about life." -- Gregg Braden
Glenn Scarpelli, Friday Emcee
Glenn Scarpelli has been in the entertainment business for over 40 years. Starting his career as a child actor, he is best known for his role of Alex on the long-running CBS classic sitcom, "One Day at a Time" along with Valerie Bertinelli, Bonnie Franklin, Mackenzie Phillips and Pat Harrington.
For the past 24 years, Glenn has been a resident of Sedona, AZ and is the founder/owner of Channel 18, Sedona NOW TV which has been nominated for 4 Rocky Mountain Emmys. The station has been on the air serving the community for 18 years.
Glenn has a film being released on Amazon Prime in which he produces and co-stars with his "One Day at a Time" alumna Mackenzie Phillips. It's called "Sacred Journeys" and was filmed entirely in Sedona!
Carla Trujillo, Emcee and Co-Producer
Carla Trujillo is a Master Teacher of both Usui Reiki and Karuna Reiki. She's completely enthralled in sharing her healing gifts with others and living her truth and passion. Joining the Stellar Production Live team gives Carla another avenue of inspiring others to live their hearts desires. Carla loves nature and you can often find her with family hiking the magical red rocks of Sedona.
__________________
Here are Your Registration/Attendance Options
Commitment Policy:
Your weekend fee is not refundable however, it is transferable. Should you wish to transfer your ticket to someone else email our office please email: Carla@stellarproductionslive.com no later than September 6, 2018, to advise who will be taking your place.
Thank you! We look forward to seeing you in Sedona.