Presenters
Heart Wisdom ~ Empowerment
March 2-4, 2012
Friday, March 2nd, 2012.
6:00 pm Doors Open !
Music and Opening ceremony with Willkasara !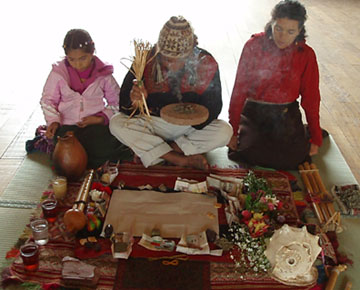 Friday, 6:30 pm - 7:45 pm Cynthia James - Welcome Keynote Address
Healing The Fragmented Heart
Why are there so many people feeling challenged and unable to move beyond past their fears and doubts? What is it that keeps a person cycling in old patterns of behavior that do not serve them? Cynthia James has been supporting clients and organizations for over 20 years. She has discovered a commonality that explains feelings of being stuck and immobilized. An enormous amount of the world population is moving through life with "fragmented hearts". The audience will discover that place in their heart that aches with emptiness and they will deepen into the awareness for healing into wholeness. This is the time of the heart-centered journey; Cynthia inspires us to live up to our full potential. You will leave with fresh insights and tools to support this healing and expansive living.
Cynthia James is a transformational specialist and one of today's brightest and best loved inspirational leaders and teachers guiding thousands of people to make changes at a deep level for lasting healing in their lives. Ms. James holds a Master's Degree in Consciousness Studies from the Holmes Institute where she was awarded the honor of distinguished alumni, and a Masters in Spiritual Psychology. She has uniquely combined the creative arts with innovative therapeutic techniques to bring powerful personal growth and expansion to individuals of all ages, cultures, and lifestyles, including facilitating the message of her award-winning book, "What Will Set You Free" as a workshop to women in prisons.
Cynthia's life was transformed as she transcended her childhood of violence and abuse. Through education and personal healing, she created the foundation for her programs. cynthiajames.net
Friday, 8:00 pm - 10:00 pm Dr. Joe Dispenza - Opening Keynote
Breaking the Habit of Being Yourself
How to Lose Your Mind & Create a New One
DR. JOE DISPENZA
"The brain does not know the difference between what it sees and what it remembers." - Dr Joe Dispenza
Rewire your brain by taking a journey in brain evolution – using scientifically proven neurophysiological principles. Join Joe Dispenza, featured in What the BLEEP Do We Know?! And bestselling author of Evolve Your Brain: The Science of Changing Your Mind and explore the multi-faceted relationship between your brain and body. Multimedia presentations and interactive processing enables you to begin to make important changes in your body-mind connection.
You will be given the important steps to overcome destructive emotional states such as insecurity, unworthiness, and anger. Replace those emotions with new states of mind as you are guided through a step-by-step process of personal change to transform yourself from thinking to doing to being. You will interactively discover the 10 steps to rewiring your brain – the basis of Dispenza's upcoming book, due for release in 2012. Also discover:
How neural nets are assembled;
What is mind;
How to evolve your brain by changing your mind;
How to break unwanted emotional patterns;
What is attention and how you can improve it;
What is the relationship between your mind and your life;
How to create new patterns and habits in the brain and body;
Make significant changes in your life by re-wiring your brain, 100 billion neurons firing into infinite patterns. Utilize tools to enable you to apply this process at any time in the future. Your mind is your brain in action. Change your mind, change your brain; change your brain, change your mind.
Dr Joe Dispenza - Neuroscientist, chiropractor, author and lecturer, Dr. Joe Dispenza is an expert on the brain, mind and human potential. He has taught thousands of people around the world how they can re-program their thinking and eliminate self-destructive habits so they can reach their goals and visions. Dr. Dispenza draws on both scientific and universal principles to deliver practical tools and techniques that empower people to truly change from the inside out – and so change their results in life. He is the author of the bestselling book Evolve Your Brain – The Science of Changing Your Mind, Audio CD The Art of Change, and also featured in the smash hit docu-drama What the Bleep Do We Know!?
Visit: www.drjoedispenza.com for Monday full day with Dr. Joe workshop registration.
Saturday, March 3rd, 2012.
Saturday, 7:00 am - 8:00 am Meditation with Helen Wood
Saturday, 8:15 am - 9:45 am Panel In-Service to Your Heart's Wisdom with Moderator Lori Rubenstein, JD, CPC
Panel: Gavin Carruthers, Aazura, Candace Caldwell, Derek Dujardin, Carla Trujillo Panel Schedule
Saturday, 10:00 am - 11:00 am Nancy Davenport and Jason Kendrick
Bringing the Light to Those Unaware They are in the Dark –
As vibrations rise on the planet preparing the earth and humankind for the great evolutionary leap that is around the corner, we "Light Workers" want to share all we are learning with our families, friends, clients/patients, co-workers, and strangers on the street. Nancy and Jason will share stories and insights from their own journeys along with practical and sometimes impractical methods they have used for getting the word out.
Nancy is an Advance Practice Psychiatric Nurse who lives with one foot in the left-brain, scientific arena, using medication and standard Cognitive Therapy with her patients while "sneaking in" energy healing and energy psychology techniques. These have proved very popular with the patients because they work and have absolutely no side effects except a greater sense of control and even joy. This is all the more remarkable because her current practice is in a prison psychiatric hospital.
Jason is Nancy's son. Born with his grandmother literally sitting on his shoulder to guide him, he never told his family what he knew or what he heard. The fear of being different led him to eventually shut off his conduit to other realms and he became a "standard" teen and young man. At 29 his mother invited him to a Metaphysical Faire where he met a convention center full of kindred spirits and finally felt at home. He soon began working at reopening his connection and finding his true purpose in this life. His studies of energy healing as well as spiritual topics, exploring past lives and all manner of "New Thought," have helped him understand his relationships with his family and others, as well as discover his own unique way of spreading the news, especially to the young, electronically tethered generations. Jason is the author of It's Not Your Life . . .It's You! available through Amazon as well as his website.
Saturday, 11:15 am - 12:15 pm Sunny Dawn Johnston - am Keynote
No One Is Truly Alone
Every person can, at any moment, call upon not only one Archangel but seven specific Archangels to bring blessings and protection—you just need to learn how to ask. In this enlightening, entertaining and experiential workshop, Sunny Dawn Johnston, internationally recognized Psychic Medium, Author and Spiritual Teacher, leads you on a journey of self discovery and healing. Sunny will show you how to call out to each individual Archangel, to know them by name, and to develop your own special relationship with every one of them.
Using her own personal experiences and unique perspective, Sunny will guide you from a place of low vibration, pain, or darkness into the healing light and everyday presence of the Archangels. Through a series of meditations, visualizations and live music from soul musician Kris Voelker, Sunny will re-awaken the part of you that knows the truth of who you are. This workshop will offer you a chance to experience the unconditional loving energy that is surrounding you and supporting you always and in all ways.
Sunny Dawn Johnston is a gentle, loving and supportive psychic medium, spiritual teacher and Author. She has helped thousands of people across the country find their personal spiritual connection, recognize and "own" their natural spiritual gifts, and listen to their inner truth. What makes Sunny unique is her ability to transform her own inspirational life story into practical tools and knowledge. She teaches through her experience and truly does walk her talk. In December 2003, Sunny founded Sunlight Alliance LLC., a spiritual teaching and healing center in Glendale, Arizona. She followed her Angelic guidance and created a place where people could go for support, empowerment, direction and most of all unconditional love. Sunlight Alliance LLC offers classes on a variety of spiritual subjects such as: communicating with your angels, reiki, mediumship, intuitive development, death and dying and many more. These are offered at the healing center as well as through online streaming. So if you don't live in Arizona, you can still connect with Sunny from the comfort of your own home. Sunny also facilitates healing retreats in Sedona, Arizona as well as throughout the United States and recently in foreign countries. Sunny has been featured on many local and national television and radio shows including Coast to Coast with George Noory and Good Morning Arizona.
Sunny is actively involved in the spiritual community and frequently conducts informational outreach work. Her workshops and seminars are highly attended. She also volunteers her time as a psychic investigator for the international organization FIND ME. This is a not-for-profit organization of Psychic, Investigative, and Canine Search & Rescue (SAR) volunteers working together to provide leads to law enforcement and families of missing persons and homicide. Sunny co-authored the first book, Find Me. When Sunny is not teaching at her healing center in Arizona, you can find her traveling the country on her very own Living Room Book Tour, promoting her newly released book Invoking The Archangels – A Nine9-Step Process to Heal Your Body, Mind, and Soul. Sunny resides in Glendale, Arizona with her husband, two children and two dogs. You can learn more about Sunny by visiting her website at www.sunnydawnjohnston.com
Kris Voelker , Sunlight Web Goddess and Sunny's Musician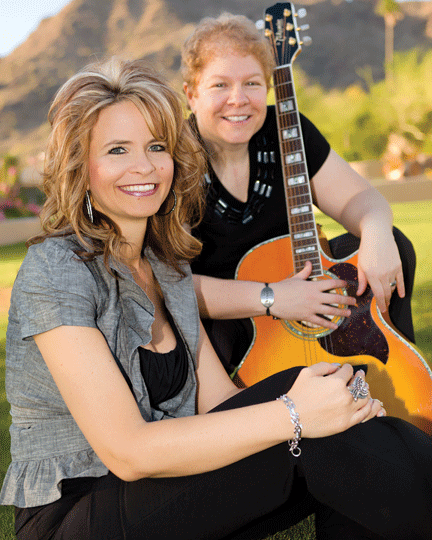 Kris is a Soul Musician whose music opens the Spirit to a new awareness. She believes there is a great need for music that supports higher consciousness and personal empowerment. Kris' music creates a space that allows you to open up to your greatest potential and to dream the dreams of your inner self. It is filled with hope and inspiration and her lyrics and melodies linger with you long after the performance has ended.
Saturday, 12:15 pm - 12:30 pm Book Signing
Saturday, 12:30 pm - 2:00 pm Lunch
Saturday, 2:00 pm - 2:45 pm Marcia Bench
"Stop Striving, Start Manifesting! How to Tap Into the Wisdom of Your Soul's Purpose and Spiritual Creation Principles"
Many people today are trying to operate their career or business based on what used to work…, "always striving but never arriving." It's time to get off the treadmill! The New 2012 Energy – of life, goal setting, leadership and more – has a whole new set of rules. Discover what they are – and how knowing them can de-stress your life and instantly lift you into a world of true success and fulfillment – in this session. You'll learn the importance of your life purpose in finding fulfillment, how to balance head and heart as you move toward your goals and dreams, and how to apply quantum physics creation principles to begin living your dreams now. Why wait to be the you that is ready to emerge – there's no time like now to allow your inner wisdom to guide you, combined with spiritual practices that accelerate your results, and start becoming the new and improved you today.
As a Transformational Success Catalyst, Marcia Bench has been helping individuals and corporate groups with their spiritual transformation through work and business since 1986. She is the author of 23 books including Career Coaching: An Insider's Guide and The Tao of Entrepreneurship, as well as a professional speaker, coach and energy healer as well as Founder and Director of the worldwide coach training firm, Career Coach Institute. She has shared the stage with Wayne Dyer, Deepak Chopra and others, and has been published by Hay House as well as her own publishing company, High Flight Press. Marcia's passion is helping people just like you discover who they are, why they are here, and how best to express their gifts in the world, creating authentic aliveness in the process. http://www.marciabench.com/
Saturday, 3:00 pm - 4:00 pm Ken Ludwig
Living From Your Heart – Out Loud
All around us, and from within, our human experience is presenting and attracting interesting situations. That very same human construct leads us to look for answers and solutions intellectually. In the current paradigm, logic and intellect seem to be the resources from which we must construct the tools to build a new order. But is that really the truth? The Universe is designed for cooperation, collaboration and co-creation. Each of us, as individuations of that co-creative energy, is hard-wired for the same purposes. Ken will talk about how to recognize when we are coming from the intellect and when we are coming from the heart. Our purpose is to accept the invitation of the Divine, right here and now, to step into that higher vibration; to live from heart wisdom and love, to support and uplift each other. And to quote Marianne Williamson; "Are you looking for a more important job?"
Ken Ludwig is a radio talk show host, speaker and coach. He has been sharing his inspirational story of living a more conscious and spiritual life to national audiences for many years through diverse mediums. Like many children of the 60's, Ken thoroughly enjoyed the sex, drugs and rock & roll lifestyle that gave him an up close and personal look at the bottom of the barrel. Today, Ken still rocks, but now he does it with a passion for a spiritual practice that saved his life, many times over. Ken is a coaching licensee with Business Growth Solutions, a Licensed Practitioner for the Centers for Spiritual Living and a certified Career Intuitive Coach. You can hear more from Ken on his radio show, "What We're Thinking About" on the 7th Wave Channel on Voice America network. Ken makes a difference by teaching and supporting the teens at Mile Hi Church. He is also the Director and host for The Red Door Sanctuary in Denver, Colorado and contributes a weekly blog for the readers of Out Front Magazine. And mostly, Ken is clear that his message and teaching in this world is to guide and teach others as they unfold into their daily spiritual practice; knowing it makes a difference within themselves and for the betterment of humanity and our amazing evolution. http://www.makingitoutalive.com
Saturday, 4:00 pm - 4:15 pm Break
Saturday, 4:15 pm - 5:15 pm Danielle Rama Hoffman
Divine Decisions-3 Steps to Instant Clarity
Are you unclear about your life purpose? Do you feel overwhelmed, confused, or indecisive? Clarity, direct knowing, and intuition are your birthrights (givens), i n fact you know in each and every moment what is best for you. Join this highly experiential seminar to reclaim the power of your direct knowing and divine the decisions that will guide your career, relationships and finances to their fullest purpose, prosperity and bliss.
Get Clear of any energy that is not uniquely you or yours
Participate in a Group Reading & Energy Empowerment to Awaken your birthright of Multidimensional Knowing (your capacity to know in each and every moment what is best for you).
Receive inner guidance about your most potent next steps.
Danielle Rama Hoffman is an energy intuitive and best-selling author who divinely transmits consciousness to inspire spiritual entrepreneurs around the globe to share their purpose prosperously, unencumbered by fear, doubt or shame. www.DivineTransmissions.com
Saturday, 5:30 pm - 6:30 pm Wulfing Von Rohr - Closing Keynote
2012 and Beyond: Heart-Wisdom and Self-Empowered Living
A Roadmap and Practical Steps: Inspiration for a New Chapter in Your Life.
Dismissing the Myths of Human Holiness and Grand Enlightenment – Opting Instead for Small Enlightenments in Everyday Life – How to Choose Self-Empowered Living, How to Open to Transpersonal Grace. How to Really Write Your Own Book of Life.
In his presentation the speaker will share insights from 30 years of studies of world spiritual traditions and personal practices. He will also invite personal experience right then and there by facilitating some simple yet effective exercises.
German Author and Co-Author of more than 90 books; General Editor for book series; Translator of more than 80 books, Literary Agent for more than 100 books, Consultant in the German Language Publishing World since 1986. (See Amazon for a list of titles currently available, mostly in German) Wulfing has studied at UCSC in the late 80s and has lived in Santa Fe, NM, from 1986 to 1998. He has introduced Edward Bach, Dane Rudhyar, Chris Griscom, and recently Geoffrey and Linda Hoppe to the German language book world. He has also worked for 20 years as a TV producer for German national TV. He has personally met The Dalai Lama, Pope John Paul II, Kalu Rinpoche, Pir Vilayat Khan, Swami Nithyabodhyananda, Sant Darshan Singh, Enomiya Lassalle, Galsan Tschinag and many other spiritual teachers from various traditions, as well as many international leaders from politics, business and entertainment.
He has been the organizer and/or host of several international conferences on intercultural and interreligious exchange in Germany, Austria and Switzerland; eg. Munich 1999, Lucerne 2000, Salzburg 2002. He has organized and hosted "Angel days" in Salzburg, Munich, Nuremberg and Lucerne as well as "Healer´s Days" in Salzburg. He has hosted conferences of other organizers, such as "The Gathering" by Cecilia Sifontes in Solothurn; "Lebenskraft Congress" by Angelika Meier for several years in Zurich, etc.
His main body of authoring work is
co-author of many books with and for healers from various countries
author of own books on spirituality, spiritual psychology, meditation, astrology, tarot
Wulfing lives at this time in Rust south of Vienna, Austria. He is an Austrian citizen.
Wulfing von Rohr, Media Services International
Feldgasse 51, A 7071 RUST, AUSTRIA email : wulfing@gmx.at - Website: www.wulfingvonrohr.info Phone: +43-2685-20406 (landline) - Phone: +43-650-5401790 (mobile)
Saturday, 6:30 pm - 8:00 pm Book Signing and Dinner Break
Saturday, 8:00 pm - 10:00 pm David Sereda
Sunday, March 4th
Sunday, 7:00 am - 8:00 am Meditation with Helen Wood Ernster
Sunday, 8:00 am - 8:45 am Guy Matthews
Accessing Yoga and Sound in this time of transition.
Guy will give a short talk on the nature of sound and yoga highlighting
the benefits of both. We will participate in a yoga and
sound experience performing simple movements from a chair.
No experience necessary, just a willingness to be fully present.
www.krystalbleu.com
Sunday, 9:00 am - 10:00 am Lea Denmark
Color and Vibration
Lea's spiritual journey began in 1983, after several near death experiences had propelled her into a lifelong exploration of the invisible realms. She is now a gifted spiritual guide and professional psychic, with a Master's degree in the field of transpersonal counseling, and trained in hand analysis and color psychology. What makes Lea's work special is her artistry in inspiring people from all walks of life to follow their life purpose and to express their personal authenticity. Her individual sessions and workshops offer fresh perspective from beyond the three-dimensional field, through innovative tools and strategies that create greater interpersonal understanding. Lea is the founder of Vibrations of Light, an enlightened professional branding company that is based in the Pacific Northwest. http://www.vibrationsoflight.com/about_lea.htm
Sunday, 10:15 am - 11:15 am Ronna Prince Sunday keynote address
Living as a Modern Master: Heart Wisdom for Changing Times
Do you feel that you are a Master of your life in these modern times? Do you live with heart coherence and spirit led choices? Are you open to change just one belief and potentially change your entire life?
Ronna Prince, speaker, intuitive counselor and coach, and producer of Sacred Journey of the Heart, will share with you 5 essential elements that lead to Modern Mastery™. One of these elements is controversial and may surprise you. It may challenge you to question some deeply held beliefs about spiritual practice and how we progress on our journey to fully awakened consciousness. This surprising element is not about the head vs heart – we already know that the heart is the key! In her presentation,Ronna will lead you through an inner journey to experience this key element of Modern Mastery™. And show you how your soul is sending you constant signals and signs to open to the doorway to deeper awareness, acceptance and appreciation of your journey, everyone in your life and every circumstance you have ever encountered. Modern Mastery™ is Ronna's new trademarked program that consists ofCodes from the Soul, Keys to the Heart.
Ronna was born with highly developed intuitive abilities, seeing and hearing things that others did not. She learned to hide this ability from an early age. Then at the age of 13, Ronna had a life changing experience. She had a tumor growing on her spine that she felt she couldn't tell anyone about. For 6 months, she lived with the fear that she was dying as the tumor grew. This made no sense because she had "envisioned" her life unfold with family, career and lots of travel. Finally, in deep prayer, she experienced a visit from a being of light, whom she later discovered was the Ascended Master Kuthumi, the Master teacher of love and wisdom. Master Kuthumi spoke to Ronna for a long time and told her she would survive and grow up, leading the life she had seen. She was told that when the time was right, she would be called to step out of her comfort zone of the known and teach about mystery and mastery.
From 2001 to 2003, Ronna kept "hearing the call", but resisted answering. Ronna says: "I was a mom of 4 kids, a banker, married, successful and marginally happy. But now, the universe was conspiring to kick me out of my comfort zone. I lost 3 jobs in 3 years and kept hearing: "It's time." When I finally surrendered, I was immediately invited to start teaching workshops and seeing clients. I was initially teaching how to "Live as an Ascended Master." Master Kuthumi, my primary guide and inner teacher, would give me the material and people would show up! It was amazing! I started studying all of the Ascended Masters and began offering channelings from these beings to groups and individuals."
But there was something Ronna felt she was missing. And that was, she knows today, living fully in the heart. She had learned to live in the intellect, the mind of ideas, and only touched the emotions and heart briefly. She taught from the mind, behind the mystique of channeling, and ancient wisdom. Her heart and soul continued to bring her deeper into the place of true inner mastery. In all of her study and interaction with the Ascended Masters, Ronna found one thing is certain: we are all being called to become the masters we are! To reconnect with the heart-wisdom within and to let go of old beliefs and unconscious patterns that keep us from fully embracing our magnificence. In 2009, Ronna was inspired to create a film about the sacred journey of the heart. This journey into the unknown has again taught her many things, based on ancient teachings reformulated for our modern times. The most important of these things is the power of conscious Love.
Ronna Prince is the writer and producer of Sacred Journey of the Heart, a film about the science and spirit of our connection. She is also an intuitive counselor and coach, a guide to sacred sites around the world and a songwriter. Ronna presents workshops throughout the US on topics of spirituality and conscious change-creation. She is a certified Radical Forgiveness Coach, an aura-soma practitioner and a HeartMath® provider. Ronna's goal with the film, Sacred Journey of the Heart, is to encourage viewers to "dive in" and to make the connection to their hearts and to the hearts of all. This "diving into the heart" activates conscious love -- the feeling of connection between self and others that restores humanity and earth to wholeness and unity. The film is part of a larger project that Ronna envisioned in 2005 entitled "Global Wholeness." Global Wholeness Corp is a non-profit corporation whose mission is to bring healing and wholeness to oneself, our communities and the whole earth through the power of love.
www.sacredjourneyoftheheart.com
http://www.facebook.com/SacredJourneyoftheHeart
http://www.facebook.com/ModernMastery
Sunday, 11:15 am - 12:15 pm Dr. Jeff Donahue
Wellness NOT Illness !
Today's medical model promotes illness rather than wellness. Dr. Jeff Donahue will not only help you to understand the difference, he will demonstrate ways in which you can begin creating better health and bring true wellness into your life. He will discuss the 3 dimensions of your being, how a healthy body facilitates a stronger spiritual connection and the role that stress plays in our lives. Dr. Jeff will also demonstrate the Surface Electromyography machine for a few audience members to see how much stress their bodies are handling. You will learn how to create good stress in your life, in order to reverse the effects of the bad stresses on your body.
Dr. Jeff practices in Mesa & Scottsdale, Arizona and can be reached at DrJeffDonahue.com
Sunday, 12:15 pm - 12:30 pm Book Signing
Sunday, 12:30 pm - 2:00 pm Lunch
Sunday, 2:00 pm - 3:00 pm Bert Janssen
The Ripple Effect
Sophia and the Circles of Wisdom
In 1531, Juan Diego, meets a woman in Tepeyac, Mexico who tells him that she is the Mother of God. Later on it is discovered that she left her picture behind inside his Tilma, his cape, and this Tilma still exists today. We known the woman on the Tilma as Our Lady Of Guadalupe.
Some 60 years earlier, around 1470, a ceremonial cape, called a cope, was designed for a very important person in Avalon, England, which is now named Glastonbury. On this cope is a picture of a woman that is identical to the picture on the Tilma of Tepeyac. That is amazing! Can it be that Guadalupe's image and energy rippled 60 years backwards in time? Can information from the future ripple backwards and influence events in the past? Can the effect proceed the cause? Can it be that these two women are the same women? Are they the female aspect of God? Can it be that we must now concentrate on and honour the Goddess?
These questions formed for Bert Janssen the start of an incredible sequence of adventures and discoveries around the rippling backwards and forwards nature of time, which he will share with you during his lecture.
You will be taken by him on a dazzling rollercoaster ride that will take you from Tepeyac in Mexico via the East Field in England to the Isle of Avalon and everything and everywhere in between. A rollercoaster ride about white owls, a hellhound and dragons. About squares, circles and pi. About now, then and back then. About balls of light, the Great Pyramid and the Philosophers Stone. About Salisbury, Saint George and the Goddess Sophia. It is an incredible story that will linger, smoulder and ferment in your system for weeks and months to come. A story you do not want to miss!
Dutch native, Bert Janssen ( www.BertJanssen.nl ), is an award winning author, researcher, and motivational entertainer. His interest in the power of shapes, form, harmony, and geometry has led him into the mysterious worlds of quantum science, Gothic cathedrals, crop circles, Inka shamanism and sacred sites. He travels all over the world to study, photograph and report on these subjects, which has led to the production of three documentaries.
Bert Janssen has written numerous articles and he is the author of several books, including 'The Hypnotic Power of Crop Circles' ( www.CropCirclesandMore.com ) and the mind-provoking thriller Sophia's Egg ( www.SophiasEgg.com ). A fascinating, suspenseful, fast paced story based on Gnostic insights.
His life quest is based on understanding the intersection of science and spirituality – the place where Earth meets heaven – where matter meets Spirit – where the square meets the circle.
Sunday, 3:00 pm - 3:15 pm Book Signing
Sunday , 3:15 pm - 3:30 Yoga stretch break with Guy Matthews
Sunday, 3:30 pm - 4:30 pm Sherab Khandro ( Shey )
Small Acts of Immeasurable Benefit
Come alive in your own journey through the power of mindfulness and intentionality, explore the transformative power of universal Love and Compassion. Drawing on 15 years of study as a Buddhist nun in the Tibetan tradition along with the direct experiences of modern life Sherab Khandro shares practices that facilitate the journey from our heads to our hearts. The path to awakening is a moment by moment practice. As the world has grown smaller, the impact of our choices matter more than ever. As global citizens, we explore the power of each thought, word and deed to contribute to the healing of hearts and minds, globally and personally, ultimately awakening our potential for true peace.
Artist, philosopher, poet and public speaker, Sherab "Shey" Khandro's deepest wish is to nourish and inspire the hearts and minds of others; paintings, sculpture and philosophical reflections focused on art, spirituality and the experiences of modern life. Committed to living with an open, juicy heart, she invites you to come alive in your own journey through the power of mindfulness and intentionality, exploring the transformative power of universal Love and Compassion.
Sherab Khandro brings expression to the sacred through images from mystical traditions around the world. Born Teresa Anne and raised in the United States, Sherab was ordained as a Buddhist nun in the Tibetan tradition for 15 years. Her art and philosophy for living express a blend of the East and the West. A modern woman and one of the early Western artists to receive formal training from Tibetan masters in exile, her art is naturally an expression of the ancient and the contemporary. In her paintings she uses the neo-impressionist style of pointillism, tiny dots of color creating rich and vibrant imagery. Utilizing the intent of her vow as a Bodhisattva, a vow taken by Buddhists to return again and again until all suffering has come to an end, each stroke of the brush holds a prayer of compassion. Each dot offered as a jeweled universe, a prayer to end suffering in the world.
She travels the country, showcasing her sacred art and engaging people of all ages, a conversation about the power of compassion likely. She speaks on living authentically, the fundamental importance of meditation and the power of an open, loving heart. Sherab leads several organized meditation groups and conducts workshops coast to coast, including the Omega Institute in Rhinebeck, NY. Committed to standing in her truth, Sherab Khandro opens her heart and invites you to step with her into a world of color, symbolism, mysticism, reflection and discovery.
Sherab "Shey" Khandro www.SherabKhandro.com
Sunday, 4:45 pm - 5:45 pm Kelley Alexander - Closing Keynote Address
Wake up! You are the One You Have Been Waiting For.
We've all heard that "we are the ones we've been waiting for" but what exactly does that mean and how do we become the ones we are waiting for? The answer is within us but how do we unlock and access the power and the wisdom for our transformation and evolution.
This is a time of unparalleled opportunity for rebirth of ourselves and our planet. We have more interpersonal and universal resources and support at this time in history than any other.This presentation will give you clear and practical skills towake up and step into your own power as a co-creator.
Kelley Alexander is a co-director of The Sanctuary at Sedona.Kelley and her partner Dean have created a program called "Radical Transformation", a Shamanic 4-Step Program to recover regardless of how crisis is showing up in one's life, whether it is physical (disease, illness, weight), emotional (depression, anxiety, addiction), soul (mid-life crisis, lack of purpose, direction or meaning) or spirit (toxic energy patterns, re-occurring disease patterns). Radical Transformation embodies the new paradigm in health and wholeness. To be "shamanic" means that you find your own inner balance and daily practices for sustainable healing and transformation of your body, mind, soul and spirit. You become your own healer, your own "inner shaman". http://sanctuary.net
Sunday, 5:45 -6:00 pm Closing Ceremony