Pre-Conference Workshops
Heart Wisdom ~ Empowerment
March 2nd & 5th , 2012
Wulfing von Rohr
Friday - March 2, 2012 - 10:00 am - 4:00 pm - $60.00 per person
Full Day Workshop Intensive on Spiritual Awakening
KISSING KARMA GOOD BYE:
You are already awakened – now you just have to realize it, too!
Several practical exercises to actually feel what it may mean to be self-empowered and to be open for transpersonal grace. The basis of this workshop is the book (so far out only in German) "Kleine Erleuchtungen", Small Enlightenments.
We will look at the basis for the workshop title and feel out
- who we really are (and why we are not identical with the originators of collective or personal karmas)
- where we are – in the body, outside the body, in the mind, outside the mind, in the soul, beyond the soul …
- why "prayer" and "forgiveness" are but crutches soon to be discarded
- what it means to be thanking life and one´s self
- what it means to be blessing life and one´s self
We will re-discover and/or deepen the power of the Breath, the Power of the Now and the Power of the I AM.
The over-all objective is to (re-)gain a new sense of Self, to (re-)discover and integrate physical, psychological and spiritual identity , to (re-)experience deep and lasting Joy of Life.
based on Wulfing´s experience.
Important Notice: The workshop is focused on drafting and writing a book, but will neither cover dealing with agents nor finding a publisher nor marketing self-published books.
Bio – Wulfing von Rohr
German Author and Co-Author of more than 90 books; General Editor, Translator, Literary Agent for equally as many, and Consultant in the German Language Publishing World since 1986, introducing notable authors to the German language book world, most recently Geoffrey and Linda Hoppe. He worked 20 years as a TV producer for German national TV meeting many recognized spiritual teachers and international leaders from various traditions and cultures. He has organized and/or hosted several international conferences on intercultural and interreligious exchange in Germany, Austria, and Switzerland.
His authoring work includes; spirituality, spiritual psychology, meditation, astrology, tarot, and works with and for healers from various countries.
He is currently living in Austria as an Austrian citizen.
Wulfing von Rohr, Media Services International
Feldgasse 51, A 7071 Rust, Austria
Email: wulfing@gmx.at – Website: www.wulfingvonrohr.info
Phone: +43-2685-20406 Mobile Phone: +43-650-5401790
Lea Denmark
Lea's spiritual journey began in 1983, after several near death experiences had propelled her into a lifelong exploration of the invisible realms. She is now a gifted spiritual guide and professional psychic, with a Master's degree in the field of transpersonal counseling, and trained in hand analysis and color psychology. What makes Lea's work special is her artistry in inspiring people from all walks of life to follow their life purpose and to express their personal authenticity. Her individual sessions and workshops offer fresh perspective from beyond the three-dimensional field, through innovative tools and strategies that create greater interpersonal understanding. Lea is the founder of Vibrations of Light, an enlightened professional branding company that is based in the Pacific Northwest.
Spiritual Guidance:
Lea is offering two spiritual guidance services during the Heart Wisdom conference weekend:
Hand Analysis sessions to read and interpret your fingerprints and the markings in your hands, clarify your life purpose and special gifts, and empower you to take charge of the destiny that is yours. If you have been longing for more clarity about your life purpose, and your special gifts, this is the session for you. Includes your personal Life Purpose Blueprint. Sessions are scheduled for 30 minutes in-person with one 30-minute telephone follow-up session to be arranged.
Special Conference Rate $96 OR $144 if scheduled after March 1
Soul Profile intuitive sessions to equip you with fresh perspective and guide you to navigate the path ahead with new awareness. Lea offers guidance from the spiritual realms to clarify up to 3 of your Questions about your soul's path, related to relationships, health, work, finances, or the general outlook of a particular situation in your life. Includes a personal Color Wisdom Formula to support your success. All sessions are scheduled for 30 minutes.
Special Conference Rate $60 OR $96 if scheduled after March 1
Sessions with Lea are always fun and enlightening, and are known to offer fresh perspective that will positively shift the energy of your body, mind, and spirit.
You may contact Lea at Lea@VibrationsOfLight.com to reserve your personal appointment time during the Heart Wisdom conference weekend, March 2 - 4, 2012.
Please Note: It is suggested that you reserve your appointment time as soon as possible, as space is limited!
Post-Conference Workshops March 5, 2012
March 5th with Dr. Joe Dispenza
LEVEL 1.5 WORKSHOP - Understanding the Power of Your Mind
Dr Joe's New Book - Breaking the Habit of Being Yourself: How to Lose Your Mind and Create a New One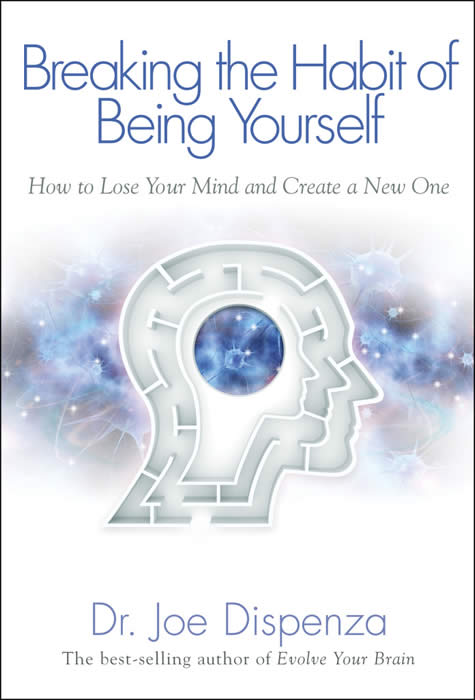 Release date is FEBRUARY 15
You are not doomed by your genes and hardwired to be a certain way for the rest of your life. A new science is emerging that empowers all human beings to create the reality they choose. In Breaking the Habit of Being Yourself, renowned author, speaker, researcher, and chiropractor Dr. Joe Dispenza combines the fields of quantum physics, neuroscience, brain chemistry, biology, and genetics to show you what is truly possible.
By understanding how your mind works, you can learn how to unlearn negative habits and emotions to eliminate self-destructive behaviors, and rewire your brain with new thoughts and beliefs that will help you heal your mind and body and create new results and possibilities in your life. In this ground breaking workshop, Dr Joe will explain:

Why we keep repeating the same patterns in our life
How we change and why change is so difficult
Why disease is created and how we can heal
How to break unwanted emotional patterns
The common thread underlying spontaneous remissions
How to create new patterns and habits in the brain and body
The 10 steps to change and reinvention of self

With the knowledge of how your mind works, Dr Joe will then guide you through a step by step meditation process to overcome destructive emotional states such as insecurity, unworthiness, anger, and so on – and replace them with new states of mind. You will leave this workshop having made significant changes in your life by rewiring your brain, and the tools that enable you to apply this process at any time in the future.
Wulfing von Rohr
Monday - March 5, 2012 - 9:00 am - 4:00 pm - $120.00 per person
A Full Day Seminar Intensive on Writing Non-Fiction Books
WRITING: WHAT YOU REALLY WANT TO SHARE
Writing as a Process of Spiritual Clearing and Awakening
Objectives of the workshop:
- Learn the basic foundations of successful writing of non-fiction book on spiritual topics
- Design an outline resp. first draft of two books (My Life; My Book)
- Dealing with questions concerning personal book projects of participants with practical hints
The over-all objective is that you will be able after this writing workshop intensive to go ahead and write your own book!
Methods employed in the workshop:
- Introduction in front of class
- First Exercise on "My Life" (concerning the life story)
- Individual presentations of book drafts
- Feed back by Wulfing
- Second exercise on "My Book" (concerning the non-fiction book project)
- Individual presentations of book drafts
- Feedback by Wulfing and group discussion
The methods are geared to an effective use of time and resource; they require a high degree of mental and emotional presence and attention.
Special Offer (included in the fee, no extra charge):
- Participants of the workshop and the TeleClass can send in by e-mail two drafts of for their book projects and get a personal reply by Wulfing (allow 4-6 weeks because he is travelling away from his office computer, please)
These topics will be among the themes being covered:
- Title and Subtitle
- Chapter Organization
- Organization of material
- The US and the European approach to chapter building
- Concise presentation of book, of author, of targeted readers
- Distinguishing your book from others
- Motivation to write (Why? When? Where? How?)
The selection of topics covers about 90% of what is essential to successful non-fiction writing, based on Wulfing´s experience.
Important Notice: The workshop is focused on drafting and writing a book, but will neither cover dealing with agents nor finding a publisher nor marketing self-published books.