Self-Empowered Wisdom
2021 Pre- and Post Conference Seminars

Special invitation to our pre-conference sunrise excursion with
Jospeh WhiteWolf
Friday, June 4th - 5 am to 7 am.
Sunrise Ceremony and Medicine Wheel Journey with Joseph White Wolf
We depart from the Creative Life Center in an open-air 30 passenger trolley at 5 am. The first stop is one of the highest points in Sedona to witness the spectacular sunrise. Joseph will share personal sunrise messages with you. Next, we take a short commute to the sacred land of the Stupa for a medicine wheel and drumming ceremony. If you are looking to feel the magic of the Sedona land, this will be the connection you seek. On the trolley ride back, Joseph will share personal animal messages with the group. There is a slow 5-7 minute walk to the medicine wheel so you must be able to walk comfortably for this time. Bring water! This tour can accommodate 30 very lucky people!.Plenty of time for breakfast before we begin at 9:00 am on Friday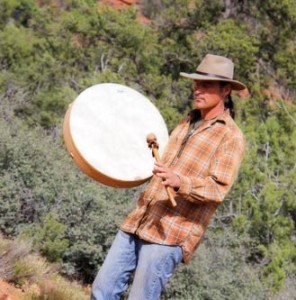 New Technologies for a New World
A Unified Worldview for Living in Harmony with Nature
Monday, June 7th
Sedona Creative Arts Center in the Great Room
9:00 AM-11:00 AM
Mark Hinds / Co-Founder & CEO of Resonant Technology Group (RTG)
Beth McDougall, MD / Chief Medical Officer of RTG
New thinking in physics is expanding our understanding about the nature of reality. This new understanding of the true nature of reality is that we exist within a field of energy and information and this field is what dictates all existence. Understanding the interconnectedness of all life is the key to restoring personal and planetary balance.
This informative talk will focus on three important areas:
Breakthrough technologies to improve global health
Sustainable solutions to support future generations
Renewable sources of power to fuel a global economy
Resonant Technologies Group (RTG) is a holding company that has 12 sub-entities with technologies based on this physics in various sectors including Agriculture, Health, Energy, and natural resources and water. RTG and its founders have been working for almost two decades to develop technologies that will have the opportunity to change the human experience.
Mark Hinds, Co-Founder and CEO (RTG) will discuss how this new science is offering solutions to many of the problems we face Globally. He will discuss new approaches for deriving energy directly from the electromagnetic field for transportation and for powering our homes, radically different ways to resource minerals and manage waste, and he will discuss frequency-based agriculture practices as well as future universal communication technologies.
Beth McDougall, MD is the Chief Medical officer of RTG and will discuss the revolutionary health companies in the portfolio. She will share how new thinking in physics is leading to different understanding about health and disease and is opening up new horizons with health technologies. She will discuss how our voice will become our most important diagnostic tool and how the medicine of the future will be based on delivering frequency and information. She will also discuss ways of activating dormant stem cells naturally found in our own bodies and non-invasive methods to direct these to sites in need of healing. Dr. McDougall will also discuss a powerful new immune modulating technology that has been shown to greatly enhance innate antiviral immunity.
Mark Hinds Bio & Resonant Technology Group
Resonant Technologies Group (RTG) is a San Francisco-based science and technology investment accelerator committed to solving humanity's biggest problems in health, energy, agriculture and the environment. The company utilizes a strategic methodology that identifies extraordinary inventors, scientists and engineers to help them productize, commercialize and license their technology and bring their genius to the world. www.rtg.io
MARK HINDS, CO-FOUNDER, CEO
Mark Hinds is a serial entrepreneur. From 1998 through 2005, he developed and implemented environmentally and economically sound technologies for building a new type of modular home. Mark was the CEO of this company and took an initial investment of $13.8 million in 1998 and built the company to the point that it was sold for $121 million in 2005.
From 2005 to today, Mark has led the development of science and technology that has the opportunity to change the direction of humanity to a positive, resonant future. From working with Nassim Haramein at The Resonance Science Foundation www.resonancescience.org for the public outreach and education of the science, to being the Founder of Resonant Technologies Group (www.rtg.io) for the actual technologies based on the science, Mark is being seen as a rare visionary for this a new understanding of science.
In 2005 Mark began funding the development of technologies based on this new understanding of Resonance Physics.
In 2012, Mark formed, as CEO, an entity to commercialize promising technologies that required more development based on the principles of Resonance Physics.
In 2015, Mark partnered with Peter Capuciati to establish the Novus Via Fund to commercialize four promising technologies that he had identified and determined were relatively close to commercialization. Three of those technologies are in the market now and the fourth will be in the market by late 2021. www.bluonenergy.com www.luminas.com www.staminapro.com.
In 2019, Mark, as CEO, Co-Founded Resonant Technologies Group (RTG) to bring to market all the technologies that he had been funding along with other investors. RTG is a holding company / accelerator / incubator of companies it co-founds with inventors, doctors and scientists that understand Resonance Physics. Five companies will be in the marketplace in 2020 from RTG (UpTerra, Sourcewave, Sonaphi, Anodet and Immunacor). There are 6 other projects in RTG that have the opportunity to fully transform industries such as health, agriculture, water, transportation, environment, material sciences, natural resources and more.
Dr. Beth McDougall is Founder and Medical Director of CLEAR Center of Health in Mill Valley, California. Long known as a medical detective, Beth McDougall MD, excels at unravelling complex, multifactorial conditions, and specializes in helping patients with chronic illness and neurodegenerative diseases. She is advancing a new paradigm, one at the intersection of medicine and contemporary physics to transform the practice of medicine and unlock the secrets to radical healing. Her book introducing this paradigm, Your Pristine Blueprint is due out Summer 2021.
GRATITUDE TO OUR SPONSORS!

**********************************************************************
• • • • •
______________________________________